Who manages '3dASAP'? (a.k.a. Why 3dASAP?... 3dASAP cares!)
• Founded to serve Non-Profit Organizations in 2002
• Proven dedication to the long term success of the Mental Health Affiliates
• Full service provider focused on serving all your print and promotional needs
• Provides leading edge technology to provide low cost solutions at the highest quality
• We take pride in delivering classic, professional customer service with a smile
Go to the Top
How do I signup on the 3dASAP mailing list (to get info on great specials)?
3dASAP Mailing List Signup!
Go to the Top
How do I contact 3dASAP?
Go to the Top
When will I receive my order?
You will receive an Order Confirmation via e-mail. In stock items, will be shipped within 24 hours. The level of service that you choose will determine when your product(s) arrive. All UPS Service is guaranteed. Since USPS delivery time varies considerably, we recommend UPS Ground service for the most economical and reliable service. UPS 3-Day Select, UPS 2nd Day Air, and UPS Next Day Air are other guaranteed services offered; however, these more expensive service levels may not be necessary if UPS Ground will meet your needs. Please see the time-in-transit map below. For exact time-in-transit click here to calculate UPS shipping with Zip Code.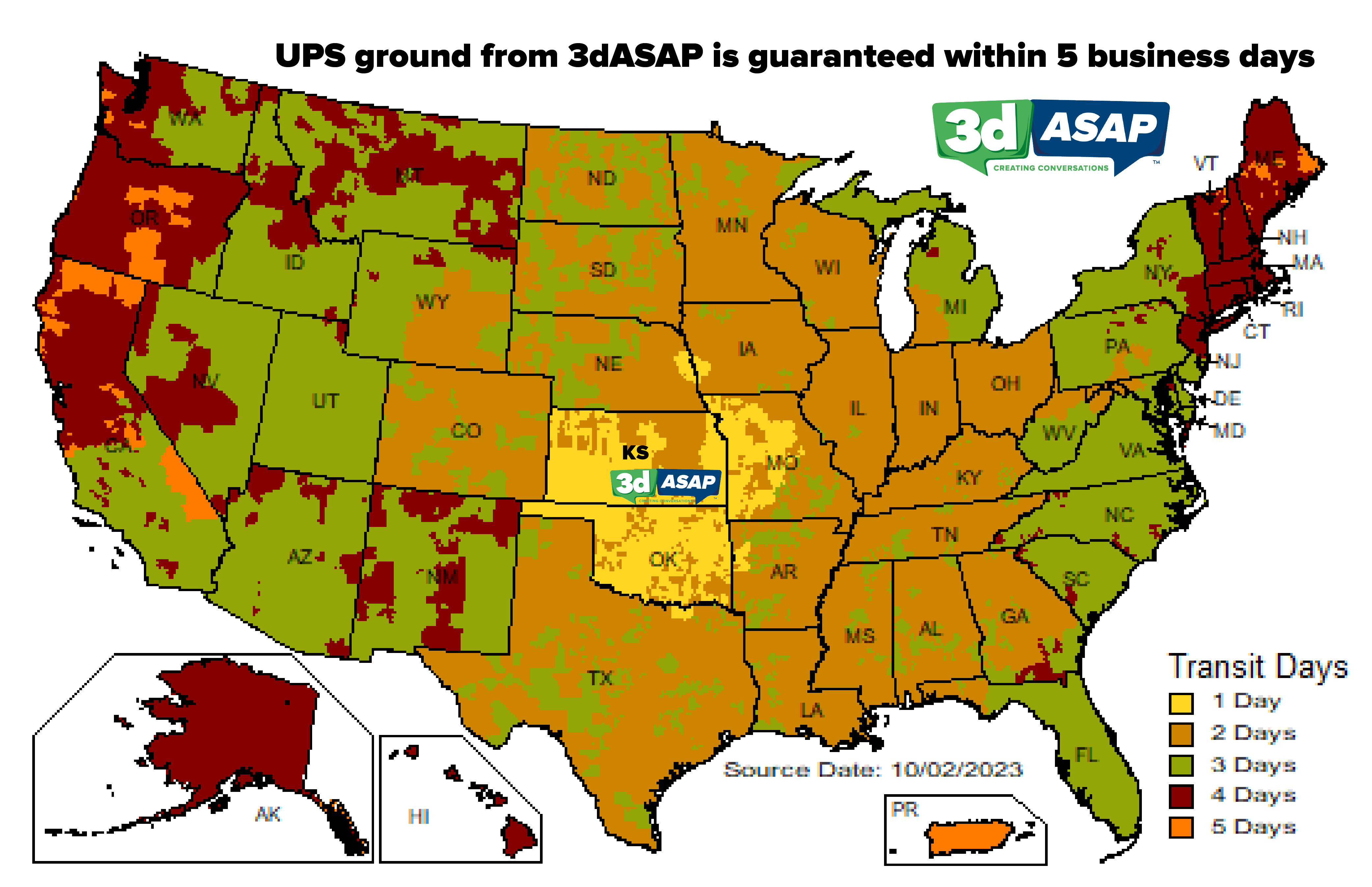 Go to the Top
How can I get a price quote for an item not currently on the 3dASAP?
Be sure to check the online catalog, and feel free to 'get a quote'.
Otherwise, Email ClientSolutions@3dASAP.com or give us a call at 512-833-7972, we are all HAPPY to help.

Go to the Top


Can 3dASAP products be customized for my Affiliates, contributors or sponsor organizations?
Certainly, we are HAPPY to help. By referring other likeminded organizations to 3dASAP, your Affiliate may benefit by receiving enhanced pricing or assistance in ensuring that top quality products are available at your events. Plus, anytime we can support each other our partnership grows and everyone will enjoy new features as we grow together. We believe in win-wins.

Please note that custom orders typically require minimum orders; however, you can rest assured that 3dASAP will provide the lowest minimums and lowest prices. We now even have a Guaranteed Best Price category of the top promotional items at 1/2 minimums and the guaranteed best price.

Go to the Top


How many products do I need to order?
The minimum order varies by product. Please see the individual product detail for this information.

Go to the Top


What payment methods do you accept?
We accept PayPal, Visa, Mastercard, American Express, Discover, JCB, Diners Club and China UnionPay both credit and debit cards as methods of payment through the shopping cart.
Go to the Top


Where is 3dASAP Promotional Solutions located?
Our office and warehouse are located in beautiful Austin, Texas.

Go to the Top


What are your customer service hours?
Our normal hours of operation are 9:00 AM to 5:00 PM, CST Monday through Friday. You can expect a helpful and happy response from any inquiry within 1 business day. (excluding Holidays)

Go to the Top


What happens to my order after it's placed?
When an order is submitted, our warehouse is notified to package and ship your products.

Go to the Top


What is 3dASAP's Privacy Policy?
You can count on us to be respectful of your privacy at all times. For complete details, click here for 3dASAP's Privacy Policy.

Go to the Top


What is the BEST PRICE GUARANTEED Section?
Other than being guaranteed to be a very low price....

Items in the BEST PRICE GUARANTEED Section have the following guarantee of best price:

(Please note: The competitor must be an ASI member and have a commercial address.)

TIME LIMIT - Price matching only takes place before the sale. It is the customer's responsibility to submit proof of lower price and a URL link must be included in the notes section of your order. Customers asking for a price match will receive an e-mail response or phone call within 24 hours to notify whether the request was approved or not. Price matches can also be verified by calling our main office. 3dASAP is not currently offering retroactive price matching.

PROOF OF PRICE - Must be verifiable from an advertised price (verbal/phone quotes not applicable for price matching) for an identical item in print or online from a competitor with a commercial address and an ASI number. All costs must be included in a competitor quote (run charges, Set up fees) with the exception of necessary 3rd party charges such as freight and shipping. Vendor must have the item in stock at the quantity being ordered.

LOCAL VENDOR VS NATIONAL VENDOR - We will price match local vendors that meet the criteria set forth in "proof of price" section.

LOW STOCK EXEMPTIONS - The 3dASAP warehouse maintains inventory based on meeting requirements to fulfill daily orders. Price matching for unusually large orders may incur a slight variance in shipping time based on the product being ordered and availability to raw materials. Price matching is also subject to competitor's ability to produce the item in the quantity being ordered. (See "proof of price")

SPECIAL SALES - Special sales and/or promotions offered by competition may be eligible for price matching and are handled on a case by case basis.

REBATES - 3dASAP will not price match products AFTER mail in rebates. Rebates are offered by manufacturers to assist 3rd parties in the sales of products.

Go to the Top


What determines Shipping and Handling costs?
Our shipping and handling charges reflect the cost of UPS Shipping, cost of personnel and products needed to prepare your products for a safe arrival. This includes packaging material, boxes, tape, labels, etc. Since 3dASAP became the owner / operator of 3dASAP, shipping costs of 3dASAP have dropped by 25-30%. 3dASAP shipping costs have always reflected actual UPS/Carrier costs. We are committed to carefully monitoring these charges/costs as it is an essential component to ensure that we remain both competitive and viable resource for your organization.

Please note the following items will affect shipping charges:
Note: The exact number of Shipment Origins is indicated in your specific order at checkout to assist with understanding your shipping rates. Please feel free to ask questions, we are HAPPY to help.
It is helpful to think of it this way: Different manufacturing locations produce different items, if you ordered every type of branded item from different companies it would be a lot to manage. We have consolidated the best manufacturing solutions, manage all the processes for you, save you time in order follow up and money due to our consolidated 1 time handling charge and applicable discount; however, shipping is calculated by the carrier as individual shipments.
Product weight and distance from our warehouses and/or manufacturing facilities
Light large items may be charged dimensional weight by the carrier
Fragile items, such as ceramic coffee mugs, require extra corrugated materials and/or special packaging to ensure safe arrival
In shipping, the first pound is the most expensive with any carrier as it must cover the minimum costs incurred for handling the shipment regardless of total weight
Items may ship from different locations, each location is a separate shipment
Items weighing less than 1 pound are charged 1 pound rate by UPS

Ideas for possibly reducing shipping costs:
If you contact us in advance, you can request to have your shipping charged to your own UPS account and you will be billed directly from UPS.
For small quantity orders from our Austin Warehouse, ask others in your office if they need anything. Since the first pound is the most expensive, for smaller orders adding additional items makes an immediate difference in the average cost of shipping per item.
Consider upcoming events and order items you will need soon on the same order.
Small quantity orders with all items being shipped from Austin Inventory to a UPS deemed residential / home address will see the options of Economy and Super Economy Ground

Every item in your cart must be from the Austin warehouse
Upon checking out UPS determines the address as either Residential or Commercial, this is not controlled by 3dASAP Promotional Solutions

If you have a special request or question, please ask. Our staff will certainly do our best to help.
Go to the Top
What is the 3-month guarantee on retractable banners?
*3 month guarantee on retractable banners** "Retractable banners are guaranteed for 3 months. Anyone handling your banner should use proper care in opening, closing, storing, and resisting shock to maximize banner usage."

Go to the Top

What is your return / cancellation service policy?
*Return Policy* Our company has always been based on creating HAPPY clients. Our service policy is designed to ensure that we continue to build on this foundation while ensuring that all participants in the order process have a reasonable responsibility for their role in the outcome of the experience. You can count on us to always be more than fair.

All returns must be authorized by our office and contain a return authorization number written on the outside of each box. The correct return address for returns and a return authorization number will be provided by our office.

Blank merchandise or generic product imprinted with the approved logo of the National Office can be returned with an approved return authorization number for a refund equal to product cost minus a 10% restocking fee.

Custom orders that have not been placed into production can be cancelled for a fee of 10%, plus cost incurred (which may include art charges, set-up charges, shipping charges of blank merchandise to press, etc.)

Customized merchandise is not refundable or returnable after it is produced and shipped. In the case of a damaged product or a misprinted custom product, your order will be reproduced and shipped as soon as possible. Client approved customization produced as approved is not a misprint. Customer art approval includes, in person approvals at conferences or in the traveling store, instant online proofs, emailed proofs, producing of customer supplied artwork, or approved description, which could include fonts, font size, spelling, content, etc.

Custom orders that have not been placed into production may be cancelled; however, an order processing fee of $35 may apply. If any charges have incurred (which may include any of the following: credit card charges equal to approximately 6.25% of the order, art charges, set-up charges, shipping charges) your refund will be calculated minus any of those applicable charges. You will be notified in advance.

Blank merchandise or product imprinted with the approved logo of the National Office that has not shipped from our Austin warehouse may be cancelled.

Item availability
3dASAP Promotional Solutions dba 3dASAP cannot always guarantee products will be available once an order has been submitted. Inventory changes daily and limited quantities can make completion impossible. In these cases, 3dASAP Promotional Solutions has the complete discretion to offer a similar item or a 3dASAP credit. If this occurs, a 3dASAP Promotional Solutions representative will work with you to provide applicable product alternatives.

Go to the Top